2018 SWST/JWRS International Convention

---
The 61st SWST International Convention, in cooperation with Japan Wood Research Society and Nagoya University,  will be held November 5-9, 2018, at the Noyori Conference Hall, Nagoya University, Nagoya, Japan.  The overall theme is "Era of a Sustainable World – Tradition and Innovation for Wood Science and Technology".
---
Program Flyer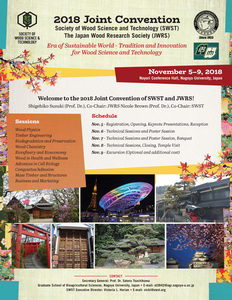 Sessions
Wood Chemistry (Cellulose Nanofibers and Lignin Utilization)
Composite Materials and Adhesion
Advances in Understanding Cell Biology and Wood Structure
Biodegradation and Preservation
Biorefinery and the Bioeconomy
Business and Marketing
Wood in Health and Wellness
Timber Engineering (Traditional and Modern Structures)
Wood Physics
Mass Timber in Building Design and Construction
Poster Session with Student Poster Competition
---
Features
The Convention will begin on November 5 with an Opening Session and Keynote Lectures at Nagoya Noh Theater, followed by an Evening Welcome Reception. The rest of the week will be held at Noyori Conference Hall at Nagoya University and will include morning and afternoon technical sessions, as well as an Optional Tour Day on Friday, November 9.  A Banquet will be held Wednesday evening, November 7 and a Closing Ceremony and a visit to Kōshō-ji Temple will take place on November 8.
We will feature an Early Stage Researcher Session on the first morning of technical sessions (Tuesday, November 6) where students and recent graduates will present their research and participate in the Student Poster Competition.
---
Call for Abstracts
Abstract submission is now open.  Please go to the link below to submit your abstract for the Convention.
https://swst2018convention.exordo.com/
Submission will close on April 30th, 2018 CDT. Please complete your submissions before this date.  Once you create an account and submit your abstract, you can go back in, make changes, and register for the Convention directly.
---
Registration
Early Registration is now open.  Full registration – $425, Student registration – $325.  These prices are available until August 1, 2018.  After that time additional fees will occur, so register now!  Full and Student registration include the Opening Session, Welcome Reception, Banquet, and 1 year membership in SWST.  Friday tour is an additional cost.
https://swst2018convention.exordo.com/
If you are not submitting an abstract and simply want to register, go to the link above and create an account and register.  You can add the Friday tour to your registration, as well as add an any accompanying person(s) and their tickets.
---
Important Dates
27th January, 2018:  Call for abstracts out
27th January 2018 : Early registration opens
30th April 2018: Abstract submission closes
30th April 2018:   Student Poster Competition Abstracts, and
Student Travel Grant applications submission closes
15th May 2018: Abstracts chosen by session chairs and notified
1st June 2018: Authors responses back to SWST for inclusion in program
1st June 2018: Program will be settled
1st August 2018: Early registration closes
1st August 2018:  Full papers due for proceedings
1st October 2018 : Online registration closes
---
Refund Policy
Cancellation Policy – No refund after October 1, 2018, 50% September 1 – October 1; 75% before September 1.
---
Awards
Awards will be presented at the Annual Business Meeting, November 8, 10:45 to 11:30.  Awards to be presented are:  George Marra Awards for Excellence in Writing, Distinguished Service Award, Fellow Award, Distinguished Educator Award, and Student Poster Competition Awards.  Past recipients can be found at http://www.swst.org/wp/awards/
---
Keynote Session and Welcome Reception – Monday, November 5
The Opening Keynote Session will be held at Nagoya Noh Theater (1-1-1 Sannomaru, Naka Ward) on November 5, from 13:00 to 17:15.  Keynotes will be presented by Prof. Dr. Akira Isogai, Tokyo University, Japan; Prof. Dr. Hans Joachim Blaß, Karlsruher Institut für Technologie (KIT), Germany; Prof. Dr. Robert Kozak, University of British Columbia, Canada; and Prof. Dr. Yves Weinand, École polytechnique Fédérale de Lausanne (EPFL), Switzerland.
The Welcome Reception will be held at Garb Castello (1-4-1 Meijo, Kita-ku, Meijo Park, Tonarino 1F,) on November 5, from 18:00 to 19:30.
---
Banquet – Wednesday, November 7
The Convention Banquet will be held at the Nagoya TV Tower & Park Banquet Restaurant, (3-6-15 Nishiki, Naka-ku, Hisaya Odori Park) on Wednesday, November 7, from 19:00 to 21:00.
---
Tour of Nagoya – Friday, November 9
The tour will take place on Friday, November 9, and WILL REQUIRE A SEPARATE FEE.  It will be an all-day tour of the sights of Nagoya, and include lunch and transportation.  Sites included in the tour are:  Toganji Temple, Nagoya Castle, Atsuta Shrine, and Toyota Commemorative Museum.