Airfare Discounts
Delta
Meeting Ticket Designator/Meeting Code: NMMMY
Travel in or Between U.S./CA:
Discounts valid on Delta and applicable DL* Codeshare flights.
| | |
| --- | --- |
| DELTA BOOKING CLASS | Percentage Off: |
| F / G / J / C / D / Y / A / P / I | 10% |
| B / M / S / H / Q / K | 5% |
| U / T / V / X | 2% |
International DL*
Travel allowed between Europe, Middle East, Africa, India, Caribbean, SJU, STT, STX, Central/South America, Israel, Mexico, U.S., and Canada (does not apply within/between U.S./CA). Discounts and applicable DL* Codeshare flights. Fare Class X / V discounts do not apply.
| | |
| --- | --- |
| DELTA (DL) BOOKING CLASS | Percentage Off: |
| J / C / D / W / Y / B / M | 10% |
| I / Z / S / H / Q / K / L / U | 5% |
| T | 3% |
International Transpacific Asia/Australia - US/CA DL*:
Travel allowed between Asia/Australia - U.S. and Canada. (Does not apply withing/between U.S./CA). Discounts valid on DL and applicable DL* Codeshare flights.
| | | |
| --- | --- | --- |
| DELTA (DL) BOOKING CLASS | Percentage Off: | Haneda Japan Discount |
| J / C / W | 20% | 25% |
| D / I / B / M / H / Q / K | 10% | 15% |
| L / U / T | 5% | 10% |
| X / V | 3% | 8% |
Fare Details
Discounts applicable worldwide for eligible Delta Meetign Network passengers.
Contract allows for Zone Fare pricing. Please use Agreement Meeting Code to price the itinerary or call the DMN Desk at 1-800-328-2216 for pricing assistance.
Zone Fares are applicable for travel from U.S./VA only to worldwide destinations.
Contract not valid with other discounts, certificates, coupons, or promotional offers. Not all fares are eligible for use with this contract. Fare rules will determine eligibility.
Fares are valid via DL, DL Connection, and DL applicable codeshare flights.
International discounts apply for travel on AZ coded flights. Contact the DMN Desk at 1-800-328-2216 for applicable AZ clases of service.
Administrative fees for published fares and zones fares are subject to change.
Miles may be earned. SkyMiles travel aware redemptions are not permitted.
Meeting Code to be provided upon acceptance of contract, receipt of deposit or ticketing as required. For meeting contracts, please allow up to five (5) business days for receipt of Meeting Code
Tickets must be issued on 006 ticket stock and reflect the applicable fare basis and Meeting Code.
Once ticketed, if changes, occur, an administrative fee may apply in addition to any difference in the fare.
The routings and booking classes for Codeshare airlines change frequently, so please contact your Delta Meeting Network Specialist when using carriers other than Delta to verify correct booking class.
Reservations and ticketing is available via www.delta.com/meetings or by calling our Delta Meeting Network Reservations at 800-328-1111. Please note that a Direct Ticketing Charge will apply for booking by phone. When booking online at www.delta.com/meetings, select 'Book Your Flight' and enter your Meeting Code in the box provided.
Airlines
Afonso Pena International Airport (airline code CWB) is Curitiba's main airport. Major airlines that fly into here are Aerolineas Argentinas, American, Avianca Brazil, Azul, GOL, and TAM. Most international flights will have to go through Sao Paulo, Brasilia, or Rio de Janeiro.
Arrival Instructions
Sao Paulo time is 1 hour ahead of US Eastern. When arriving in Sao Paulo from an international flight, you may have to go out of the International Terminal, #2, and go to Terminal #1 for domestic flights in order to get to Curitiba. Some of the domestic flights do leave out of Terminal 2 though. You will probably debark the lane on the tarmac, not a jetbridge. They take you by bus to the terminal where you begin your process. You do actually have to recheck your suitcases. When you come off the plane and head for Immigration, you go through Immigration (be sure to hang on to your Arrival/Departure card you fill in when you arrive and they stamp. You will need it to leave the country later), then be sure to pick up your suitcases in the baggage claim area. You walk out of security totally, following the signs for "Connecting Flights". The GOL desk is directly across the room from the exit of security, but I am not sure where the other airlines are. You have to show your boarding pass for your domestic flight and also recheck in the bag. It is just a quick step, but can take time. They will tell you your gate number and that is how you tell if you are in Terminal 1, 2,or 3. No matter which terminal, you still have to go back through security. In the domestic terminal there are not many places to eat, so if you are hungry you need to get something before going through security. The Delta Sky Club is only in International Terminal #2 so for domestic flights you won't be able to use it. Some domestic airlines have food for sale on the flight. Your connecting domestic flight will also take a bus from the terminal to the airplane on the tarmac. Be sure you are at your departing gate in plenty of time as they sometimes leave early and when you have to take a bus first, it's crucial to be there.
A taxi ride from the Curitiba airport would be about R$80 ($20). They also have a bus service, Aeroporto Executivo, which costs about R$13 ($4) and departs every 20 minutes. This bus stops right outside the Hotel Bourbon (the stop is "Biblioteca Publica") and is about a 35 minute ride. http://aeroportoexecutivo.com.br If you do take the bus, there is a desk at baggage claim where you can buy your tickets and they can give you information.
Attire
Business casual for meetings
Business Hours
Working Hours are usually from 08:00 or 09:00 to 17:00 or 18:00. Banks open Monday to Friday, 10:00-16:00. Street shops tend to close at noon on Saturday and only re-open on Monday. Shopping malls normally open 10:00-22:00, Monday to Saturday, and 15:00-21:00 on Sundays. Some malls, especially in large cities, are also open on Sundays, although not all the stores may be open. It is also possible to find 24-hour stores and small markets that are open even on Sundays.
Car Rental Discounts
Important Rental Information
The SWST 2016 discount is available at participating locations in Brazil.
The 15% Discount applies to rentals on Affordable Rates from March 1-31, 2016
Reservations must be made at least 24 hours prior to vehicle pickup, using the PC# 153215.
Minimum rental period is 3 days.
Offer includes Compact and above both manuals and automatic (includes basic/standard cars - not vans, premium, luxury, collections, etc.).
Dicount does not apply to taxes, intercity drop charges, insurance or optional services.
Certificate has no cash value and may not be combined with any other offer, discount, or promotion. Certificate must be presented and surrendered at time of rental.
Normal intercity rules and rate restrictions apply.
Minimum rental age is 25 (exceptions apply). Hertz standard driver and credit qualifications for the rental location apply. Blackout periods may apply.
For Budget Car Rental
Your Budget Customer Discount or BCD number is u020322.
When calling Budget at 1(800)842-5628 to make reservations, attendees should provide our reservations agents with this BCD number to ensure they receive the best available car rental rates. The BCD will be effective from seven days prior to the event until seven days after the event. Below is a hyperlink to Budget.com for our conference.
Budget Discount for 2016 SWST International Conference
---
For Avis Car Rental
Your Avis Worldwide Discount or AWD number is D374526
When calling Avis at 1(800)331-1600 to make reservations attendees should provide our reservations agents with this AWD number to ensure they receive the best available car rental rates. This AWD will be effective from seven days prior to the event to seven days after the event. Below is a hyperlink to Avis.com for our conference.
Avis Discount for 2016 SWST International Conference
For Hertz Car Rental
Call the Hertz International Reservation Center at 1-800-654-3001 in the USA or your local Hertz Reservations Center to receive a special discount for the SWST 2016 meeting. Reservations may also be placed on-line at www.hertz.com. You will receive 15% off qualifying Affordable rates with Unlimited Mileage at participating locations in Brazil.
Be sure to identify yourself as a SWST 2016 attendee. The PC# 153215 must be on your advance reservation to receive this special offer. You must present this coupon at the time of rental in order to receive this discount.
This special offer is available for rentals from March 1 – 31, 2016.
Climate
Curitiba has an oceanic climate (more specifically a maritime temperate climate or subtropical highland climate). Located in Southern Brazil, the humid city lies in a temperate zone. Its altitude makes it the coldest among Brazil's state capitals. The terrain's flatness hinders water drainage after rain, therefore providing water vapor for the atmosphere. Cold fronts come year round, often from Antarctica and Argentina, bringing tropical storms in summer and cold winds in the winter. They can move very quickly, with no more than one day between the start of the southern winds and the start of rain. Curitiba's weather is also influenced by the dry air masses that dominate Brazil's midwest most of the year, bringing hot and dry weather, sometimes even in winter. The average temperature for March is 26 °C (78 °F) for a high and 15 °C (60 °F) for a low.
Currency
The currency in Brazil is the BRL (Brazilian Real). You can check the conversion rate for your country at www.xe.com. Currently (August 2015), R$1 equals USD$.27
Electricity
110 & 220, AC 60Hz. Plugs can be the normal USA type, or it can be this type *Plug Type A , but a square case on the plug won't fit into the hole. It needs to be a round case or hexagonal case.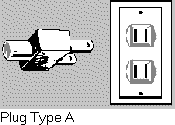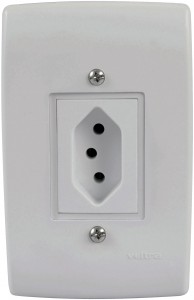 Health
It is essential to have health insurance in Brazil, as hospital and medical fees are high. For most regions of the country you don't need to worry about vaccinations; however, yellow fever shots are necessary if you plan to visit the following states: Acre, Amazonas, Goias, Maranhao, Mato Grosso, Mato Grosso do Sul, Para, Rondonia, Amapá and Roraima. For these regions, vaccination against typhoid, polio and malaria is also recommended.
Hospital de Clínicas - UFPR, R General Carneiro, 181 - Alto Glória
Curitiba, PR | CEP: 80060-900 Centro de Curitiba. Tel. +41 3360-1800
Hospital Santa Cruz, Av do Batel, 1889 - Batel
Curitiba, PR | CEP: 80420-090 Tel. +41 3312 3000
Bottled water is recommended
Insurance
The Society of Wood Science and Technology is not responsible for the insurance of participants against personal injuries, sickness and theft or property damage incurred during the convention period. Concerned participants should obtain insurance coverage.
Mobile Phones are GSM
You can buy prepaid SIM cards if your phone accepts them. You can also rent/buy temporary cell phones. Cell phone rental/purchase: WWW.MOBAL.COM
Passport & Visa
This is a list which indicates who needs a visa and who does not to enter Brazil. If you are traveling from the USA, you do need one and the fee is $160 which is good for 10 years. http://sistemas.mre.gov.br/kitweb/datafiles/SaoFrancisco/en-us/file/visa_exception_list.pdf
You will need to go to the Brazil Embassy webpage for your country. For the USA, you would go to this website and pick your location.
http://washington.itamaraty.gov.br/en-us/brazilian_consulates_in_the_us.xml
You may also use a visa processing company such as the one below.
http://www.passportvisasexpress.com/visa_services/brazil/brazil_chicago_consulate/tourist_visa
U.S. citizens and other foreign travelers must fill out an immigration form on arrival that will be stamped and handed back by immigration officials at the airport. It is important to retain this form to hand back to immigration officials upon exit from the country. According to the Brazilian Embassy's website, visitors who lose this form will have to get clearance from the Brazilian Federal Police to leave the country and may have to pay a fine.
Time Zone
UTC-3h is current time in Curitiba, Brazil.
Compare Your Time Zone
Tipping
Workers in most services get tipped 10%. In restaurants the service charge will usually be included in the bill and is mandatory. If a waitperson is friendly and helpful you can give more. When the service charge is not included, a 10% tip is customary.
On jungle trips, it's customary to tip your guide at the end, and certainly appreciated if you can give a little to the assistant or boat operator(s).
Most people round up taxi fares to the nearest real, but tipping is not expected.
Useful Phone Numbers
192 - Ambulance
190 or 911 - Police
193 - Fire Department
To call out of Curitiba to your home or another country, you would use 0021 as the international prefix. For instance, to call SWST in Madison, Wisconsin, you would call 0021-1-608-577-1342. To find dialing codes for your country, go to http://www.timeanddate.com/worldclock/dialing.html
Embassy Contact Addresses
To find your closest Embassy, see http://embassy.goabroad.com/embassies-in/brazil