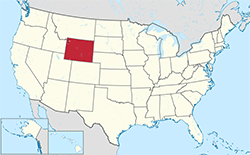 Wyoming is a state in the mountain region of the Western United States.  It is the 10th most extensive, but the least populous and second least densely populated of the 50 United States.  With only about six people per square mile, there are more pronghorn antelope and deer than human residents.  The western two thirds of the state is covered mostly with the mountain ranges and rangelands in the foothills of the Eastern Rocky Mountains, while the eastern third of the state is high elevation prairie known as the High Plains.  The Teton Range in the northwest extends for 50 miles (80 km), part of which is included in Grand Teton National Park. The park includes the Grand Teton, the second highest peak in Wyoming.
Several Native American groups originally inhabited the region now known as Wyoming. The Crow, Arapaho, Lakota, and Shoshone were but a few of the original inhabitants encountered when white explorers first entered the region.
The key tourist attractions in Wyoming include: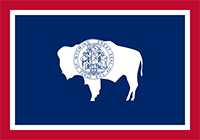 Each year Yellowstone National Park, the world's first national park, receives three million visitors.
Wyoming's National Parks and Monuments, Forests