About Grand Teton National Park (National Park Service)
Grand Teton National Park is a United States National Park in northwestern Wyoming. At approximately 310,000 acres (130,000 ha), the park includes the major peaks of the 40-mile-long (64 km) Teton Range as well as most of the northern sections of the valley known as Jackson Hole. It is only 10 miles (16 km) south of Yellowstone National Park, to which it is connected by the National Park Service-managed John D. Rockefeller, Jr. Memorial Parkway. Along with surrounding National Forests, these three protected areas constitute the almost 18,000,000-acre (7,300,000 ha) Greater Yellowstone Ecosystem, one of the largest intact mid-latitude temperate ecosystems in the world.
Grand Teton National Park is an almost pristine ecosystem and the same species of flora and fauna that have existed since prehistoric times can still be found there. More than 1,000 species of vascular plants, dozens of species of mammals, 300 species of birds, more than a dozen fish species and a few species of reptiles and amphibians exist.
Grand Teton National Park is a popular destination for mountaineering, hiking, fishing and other forms of recreation. There are more than 1,000 drive-in campsites and over 200 miles (320 km) of hiking trails that provide access to backcountry camping areas.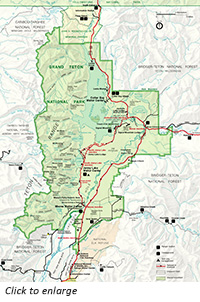 The park has 200 mi (320 km) of hiking trails, ranging in difficulty from easy to strenuous. The easiest hiking trails are located in the valley, where the altitude changes are generally minimal. In the vicinity of Colter Bay Village, the Hermitage Point Trail is 9.4 mi (15.1 km) long and considered easy. Several other trails link Hermitage Point with Emma Matilda Lake and Two Ocean Lake Trails, also considered to be relatively easy hikes in the Jackson Lake Lodge area.  Other easy hikes include the Valley Trail which runs from Trapper Lake in the north to the south park boundary near Teton Village and the Jenny Lake Trail which circles the lake. Ranging from moderate to strenuous in difficulty, trails leading into the canyons are rated based on distance and more importantly on the amount of elevation change. The greatest elevation change is found on the Paintbrush Canyon, Alaska Basin and Garnet Canyon Trails, where elevation increases of over 4,000 ft (1,200 m) are typical.  Horses and pack animals are permitted on almost all trails in the park, however there are only five designated backcountry camping locations for pack animals and these campsites are far from the high mountain passes.  Bicycles are limited to vehicle roadways only and the park has widened some roads to provide a safer biking experience.
A paved multi-use pathway opened in 2009 and provides non-motorized biking access from the town of Jackson to South Jenny Lake.   Bear Spray is suggested to be carried on all hikes!
Sixty-one species of mammals have been recorded in Grand Teton National Park.   This includes the gray wolf, which had been extirpated from the region by the early 1900s but migrated into the Grand Teton National Park from adjacent Yellowstone National Park after the species had been reintroduced there.  In addition to gray wolves, another 17 species of carnivores reside within Grand Teton National Park including grizzlies and the more commonly seen American black bear. Relatively common sightings of coyote, river otter, marten and badger and occasional sightings of mountain lion, lynx and wolverine are reported annually.   A number of rodent species exist including yellow-bellied marmot, least chipmunk, muskrat, beaver, Uinta ground squirrel, pika, snowshoe hare, porcupine, and six species of bats.
Of the larger mammals the most common are elk, which exist in the thousands.   Their migration route between the National Elk Refuge and Yellowstone National Park is through Grand Teton National Park, so while easily seen anytime of the year, they are most numerous in the spring and fall. Other ungulates include bison and pronghorn—the fastest land mammal in the western hemisphere—which are found throughout Jackson Hole as are moose, which tend to stay near waterways and wetlands.   Between 100–125 bighorn sheep dwell in the alpine and rocky zones of the peaks.