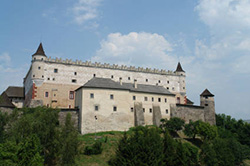 Zvolen is a town in central Slovakia, situated on the confluence of the Hron and Slatina rivers, close to Banská Bystrica. With its ancient castle, the town has a historical center, which represents the seat of an okres (Zvolen District).  In the 11th and 12th centuries, one of the largest medieval castles in Europe, Pustý hrad, was constructed. The town, originally built under the castle, lay on an important trade route (Via Magna) from Buda to Kraków.
In 1871-1872, two new railways were built and Zvolen became an important railroad hub and industrial center. Zvolen played a significant role during the Slovak National Uprising. Two of its armored trains made in the local railway manufactory, Hurban and Štefánik, can be seen near the Zvolen castle.  Not only is Zvolen important for railroad, but is also situated as a major road hub. The town boasts a large timber factory and a technical university.   Zvolen has a population of over 43,000.
Europa Shopping Center Zvolen opened in 2012 on Namestie SNP. http://www.europazv.sk/ Here you can find Tesco Supermarket, GATE, Cropp Town, Exisport, John Garfield, etc.
Transportation:
Bus is the only option in public transport in Zvolen and it is operated by SAD Zvolen a.s. Standard fare for an adult is about 0.60 EUR (sold in bus by driver - one ride).
Taxis are available at a rate of 1 km = cca. 1,5 EUR
"Spa-towns"
By public transfer you can arrive - in less than 10 minutes - at either of two "Spa-towns" called Sliač or Kováčová.  
Sliač  - There are numerous mineral medicinal springs as well as drinking water which visitors are free to take in bottles. Sliač offers a salt cave for relaxation and pools with thermal water. To its visitors, this spa town claims rich beauties of nature in the form of a botanical garden as well as the Gothic Church in Hajniky built in 1263.
Kováčová  - A thermal swimming pool and curative springs attract visitors' attention throughout the year. The thermal spring was discovered accidentally in 1898 by coal miners. Nowadays thereis a thermal swimming pool with modern infrastructure. In the nearby camping site you can beaccommodated in huts, tents or caravans.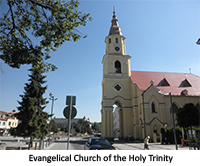 Things to see in and around Zvolen:
The Deserted Castle (Pusty Hrad)
Zvolen Castle - which is now a museum
The Roman Catholic St. Elizabeth's Church
SNP Square
The Evangelical Church of the St. Trinity
Finko curia and Forestry and Wood Sciences and Technology Museum
Borova Hora Arboretum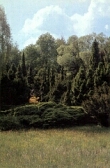 BOROVÁ HORA arboretum. In the area of 48 hectares you can see the collection of tree species, 800 natural forms and cultivars of roses, 600 sorts of home and world breeders, and 600 cactus species mainly from Mexico and contiguous areas.
The arboretum is open on workdays from 7.00 a.m. till 3.00 p.m. and it is easily accessible from the town centre either by walking or by the No. 4, 5, and 6 buses.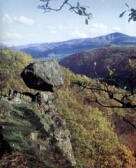 BOKY nature reserve. The territory stretches in the area of 176.49 hectares not far from the village of Budča (15 minutes by bus). The locality includes the northernmost habitats of thermophilic ecosystems on the steep rocky hillsides. There is found a unique nature creation called Čertova skala (Devil's Rock). There is the instructive pathway with informative signposts passing through the reserve.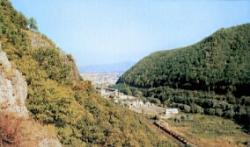 POĽANA nature reserve offers a wide range of possibilities for lovers of rock climbing as well as classic hiking. There is the highest peak of the Kremnické vrchy mountain range, which gave the name to the whole nature reserve, as well as a unique Melichova skala (Melich's Rock).
Other nature reserves in the surroundings of Zvolen:
- Mláčik national nature reserve
- Prosisko nature reserve
- Gavurky protected area.
In Zvolen and its surroundings there is a high concentration of mineral springs.
The mineral spring Červená medokýš is comfortably accessible by walking along the pathway towards massifs of the Deserted Castle (Pusty hrad).