The last day of the convention, Friday, June 27, is a day-long tour.
Banská Štiavnica - UNESCO World Heritage Site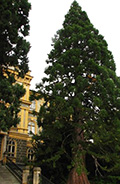 Banská Štiavnica is the oldest mining town in Slovakia; its town seal of 1275 is the earliest known bearing a mining emblem. It lies on the steep slopes of the Glanzenberg and Paradajz mountains.
The Mining Academy, founded in 1762-64, was the principal academy in the Austro-Hungarian Empire. It is now a Forestry High School. 
Representatives will provide a program for our group from 11:00 to 13:00 which will consist of an exhibition of school and history of mining-forestry education as well as a tour of the Botanical Garden.
Lunch - Salamandra Resort and visit to nearby Tajchy (mining lake)
Hronsek Church

This beautiful church is located in the village of Hronsek, halfway between the cities of Zvolen and Banská Bystrica in the central region of Slovakia. The most unique feature in the building's design is the clear influence of Scandinavian architectural styles, making it the only church in the country to exhibit such characteristics.  The church was inscribed on UNSESCO's World Heritage List in 2008 along with seven other Slovak wooden churches.