Zvolen Castle
Sunday, June 22, 2014
Schedule

| Time | Description |
| --- | --- |
| 5:00 - 6:00 p.m. | Short formal presentations; welcomes from the Mayor's Office, the University, and SWST; hors d'oeuvres and a welcome drink. |
| 6:00 - 7:00 p.m. | The Castle museum will be open for browsing collections of Gothic and modern arts exhibited by the Slovak National Gallery.  Museum entry is included as part of the opening ceremony.  |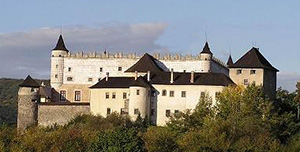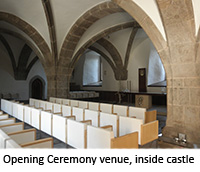 Zvolen Castle, a Gothic castle with Renaissance fortification, is situated on the mild hilltop at the southern part of the square. It was built by King Louis the Great of Anjou in the last third of the 14th century as a hunting residence according to Italian town castells.
The castle had several owners. King Matthias Corvinus and his wife Beatrix liked to come here. It was also a residence of Ján Jiskra of Brandýs, and was kept in Ján Thurzo´s possession as well.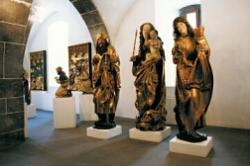 On the ground floor are the most precious rooms with stone rib vaulted ceilings lit by narrow apertured windows. Its eastern wing includes an original Gothic two-story chapel with beautiful portals. The first major reconstruction from 1491 – 1510 added the exterior stony fortification to the castle. The Renaissance reconstruction of the castle began in 1548. The castle was made one floor higher, corner oriel keeps were built, and the third story was equipped with shooting openings.
In the second half of the 18th century the castle experienced the second distinct reconstruction. During this Baroque reconstruction was created the coffered ceiling in the Royal Hall with the portraits of 78 Roman emperors. It had been in the king's possession until the middle of the 17th century.
Nowadays Zvolen Castle is a national cultural heritage and the seat of the Slovak National Gallery.