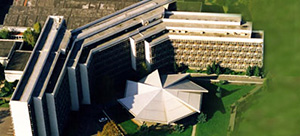 Technical University of Zvolen, Aula Building: All technical sessions will be held in the Aula Building, the geometric round building. Entrance is inside the main University Building, to the right, and down the stairs. Follow signs.
Breakfast is included in the room rate of hotels.
Coffee Breaks and Lunches: Provided at Technical University in Zvolen. Coffee breaks will be outside the Aula Room and lunches will be held in the Canteen. Both are included in the registration fee.
Bulletin Board: Available near Registration Desk.
Cell Phones: The cell phone service in Slovakia is GSM system on a frequency of 900/1800 MHz. You can buy local SIM cards for insertion in your phone at the T-Mobile store or Orange store. Participants are advised to turn their cell phones off or to silent during all sessions.
Cell phone rental/purchase: www.mobal.com
You can purchase sim cards ahead of time which work in all countries from http://www.onesimcard.com.
Internet Services: All hotel rooms offer free wireless or wired cable internet.  The meeting room, Aula, at the University has wireless.
Language: The official language of the convention is English.  All written material must be in English for incorporation into proceedings.
No Smoking: The conference venue is a smoke-free area.
Preview Room for Speakers: Available
Registration Desk: Outside of Aula meeting room, lower level, of main entrance of Technical University in Zvolen.
Name Badge: Each convention participant must wear his/her badge at all times while inside the convention venue, as it will be used for identification.
Transportation to Technical University of Zvolen from Hotels:  You can walk from Hotel Polano, Hotel Franko, and Hotel Akademic.  Hotel Tenis requires about a 2 Euro taxi ride, and Hotel Kaskady is about a 5-10 Euro taxi ride.  Shuttle service can be arranged for those needing assistance.