Guidelines for Poster Presentations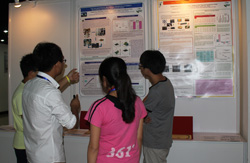 The Technical Poster Session will be held on Sunday, June 9, 2013, from 17:00 - 19:00, in Salon A, B, D, E.
All posters will be displayed on pre-assigned 4 (height) x 8 (length) feet (1.2192 (height) x 2.4384 (length) meters) panels. Authors will mount and dismantle their own posters during the allocated time period. Posters may be left up throughout the whole convention but  need to be taken down by 2:00 p.m. on Tuesday, June 11, 2013. Poster tubs should not be left in the poster room.
Posters should be designed accordingly with clear diagrams and text that can be read from a distance of 1.5 m. There will not be a table in the poster-displaying area.  There will be a container attached to each poster to allow for handouts.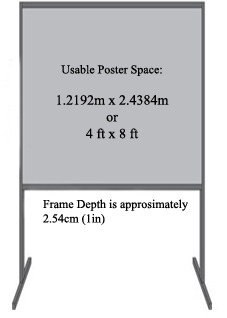 The posters will be affixed to the panel by Velcro tabs or push pins which will be supplied.
All Poster presentations will require a 4-8 page technical paper (due May 1, 2013 to SWST Executive Office) to be published by SWST in a Proceedings (CD) given to all International Convention attendees, and then electronically published via the internet on the SWST web site.