Over 160 delegates listened to 15 speakers, who examined national and local policy imperatives, the means to enhance structural and economic resilience, application of smart use and development to achieve a resilient coast, and how the exigencies of fiscal limitations are forcing federal, state and local agencies to adjust their roles. A lively discussion followed each speaker.
As coastal communities become increasingly vulnerable to the effects of climate change, it is essential that the United States accelerate the national dialogue on the future of our coasts. The aftermath of Hurricanes Sandy (2012) along our northeastern coast and Katrina (2005) in the Gulf of Mexico are examples of the US's more recent coastal problems. Members of SWST have the expertise to provide knowledge about wood construction methods to ameliorate some of the destruction in future climate events. Summaries of the findings will be distributed in February of 2014.
An awards ceremony was part of the program and I am shown presenting the Outstanding Achievement Award to Jeff Orlowski for demonstrating graphically in the film Chasing Ice, significant evidence for global climate change through time-lapse photography of receding glaciers.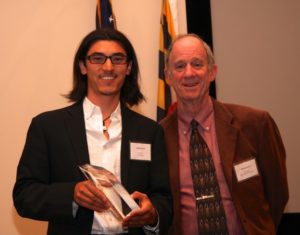 Past Vice President Al Gore received the award for Sustained Achievement but was unable to accept the award in person. More information can be found at the RNRF website –http://www.rnrf.org/2013cong

Howard N. Rosen
Chairman of the RNRF Board
SWST RNRF Representative